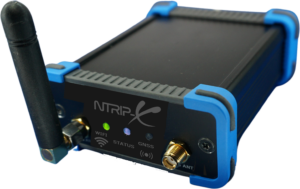 State of the art triple-band GNSS base station NTRIP-X for high precision application
The high precision GNSS plug&play base station NTRIP-X® enables sub-centimeter level location accuracy with its multi-band, multi-constellation and high precision RTK (real-time kinematic) capabilities. The solution is a perfect choice for demanding high-precision navigation and positioning use-cases like precision agriculture, unmanned aerial vehicles (UAV) and robotic lawn mowers.
NTRIP-X® is compatible with RTK rovers supporting RTCM or NTRIP. The included accessories (antenna, cabling) provide an instant set-up and operation of the NTRIP-X® base station.
Additionally NTRIP-X® is plug&play compatible with community-powered GNSS reference station networks like onocoy.
Technical Data:
NTRIP-X can simultaneously track
BDS B1l/B2l/B3l/B1C/B2a/B2b
GPS L1/L2/L5
GLONASS G1/G2/G3
Galileo E1/E5a/E5b/E6
QZSS L1/L2/L5 and SBAS
NTRIP-X supports 1408 super channels and has built in an adaptive anti-jamming technology.
The positioning accuracy for RTK (RMS) is Horizontal: 0.8 cm + 1ppm and Vertical 1.5 cm + 1ppm
The Kit includes:
NTRIP-X Base Station
HARXON CSX627A antenna
5m antenna cable
Wifi Antenna
USB-C Power cable
Magnet stand for the antenna