ADS-B Flight Information for Avionics
GNS ADS-B receiver, antenna and smart antenna technology are the industry proven state of the art solutions for various avionics use cases:
Virtual radar monitoring of aircraft
Unmanned aerial vehicles (UAVs)
In flight infotainment systems
Avionic big data and AI applications
Demand based navigation light systems (e.g. wind power stations)
GNS ADS-B receivers are industry leading in low power consumption and receiving sensitivity. Proprietary signal processing algorithms enable best separation of received ADS-B frame messages as well as stable and long range reception. GPS input support provide nano second level timestamps and multilateration (MLAT) support.
Our ADS-B product range is the ideal choice for demanding applications with low power but high performance requirements.
Our mission is to support the digital transformation of the avionic industry.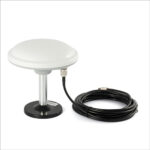 Exact trimmed and 50 Ohm matched PATCH antenna for 1090 MHz.
This antenna is made for use with ADS-B Receivers for example mounted on Windmills (BKM systems), Obstacles or for Airports to receive ADS-B data from shaded sectors
The antenna is designed for outdoor usage IP68  and features a N connector. It can be mounted directly on a wall or on a pole (add pole mount needed). The antenna is developed to avoid overlapping frames in regions with high air traffic and to have a deeper focused look into special sectors. Especially useful for redundancy operating systems or as back up.
Because of the extreme sharp narrow band this antenna is best in areas where a lot of transmitters with different frequencies are used. No additional filters are necessary.
---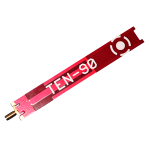 TEN-90 PCB antenna SMA
Exactly trimmed and matched PCB antenna for 1090 MHz. Designed and manufactured in Germany. This narrow-band antenna is the ideal companion for ADS-B receivers. For best results please keep the antenna cable as short as possible. The antenna is not suited for outdoor use!
---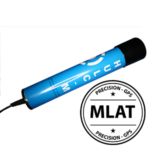 PCB ADS-B Smart Antenna HULC-M
The GNS HULC -M smart antenna with MLAT capability and integrated GNSS is the top-notch ABS-B feeding solution at unbeaten price / performance ratio. Reception sensitivity, framerate and range easily exceed competitive solutions at a fraction of system costs. HULC-M realizes this exceptional performance with a highly matched state of the art active antenna system combined with cable- and connector-less direct link to the ADS-B receiver module. The compact water and dust resistant housing facilitates continuous superior reception quality without weather caused degrading. The low power consumption makes HULC-M much more eco-friendly than any comparable solution. Thanks to the HULC-M design, two SAW filters and the active antenna is integrated to get best performance regarding range and frame rate. HULC-M guarantees no more antenna connector-, cable and installation hassle. Due to the integrated GPS HULC-M is able to provide precise MLAT data. Because of the USB Connector HULC-M is compatible with nearly any computer and allows an easy integration for example into feeder Software.
---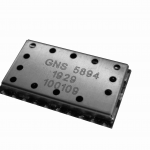 GNS 5894T
The GNS5894T ADS-B receiver module is the first choice for avionic applications that require high sensitivity and maximum reception range . The module is ideally suited for ADS-B feeding and other similar demanding applications. Industry leading reception sensitivity of up to -95 dBm, precise MLAT support and an unmatched power consumption of 70 mA make the GNS5894T the first choice for state of the art systems. The unique RF and amplifier design along with optimized firmware realize an up to ten times higher frame rate and double range than software defined radio (SDR) ADS-B solutions at only slightly higher cost.
---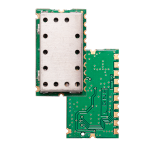 GNS 5892R
The GNS5892R ADS-B receiver module is the solution of choice for a multitude of avionic applications. The module is successfully implemented in numerous avionic use cases like In Flight Entertainment (IFE) systems, smart unit load devices (ULD) or mobile pilot information systems.
A power consumption of only 40mA makes the GNS5892R module the ideal solution for power crtitical battery based systems. The sophisticated RF and amplifier design of the GNS5892R prevents the so called doughnut effect known from other ADS-B receivers. It is possbile to receive ADS-B data seamlessly from very close to far away aircraft with no blind spots in-between.
GNS 5892R is very cost effective. Please contact us for higher volume project quotes.
---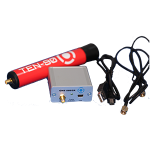 GNS 5892R Starter Kit
The GNS5892R starter kit provides everything to evaluate the GNS5892R ADS-B module. The kit contains a devkit with integrated GNS5892R module and our TEN-90 antenna along with a manual.
---